My last post from Seoul. And as all good things must come to an end, so must there be a rocking good party to mark this end. I was honored last night to have a farewell party thrown on my behalf, surrounded by good friends on a warm summer's night. Hose and Hijoo hosted this genteel affair where wine was consumed by the gallons, impromptu dances were performed to flutes and drums, and a good time had by all until the police came to break things up. Thank you to all my peeps for taking care of me while I was out here and for making this time so special. I really hate to go. Not just because of the balmy nights and good company but because now only a long lonely road stretches before me and the rest of this blog will be full of my bitching and moaning. You might as well stop reading from here on. But to prolong the great memories, here are some more pictures of my last hurrah.
Hijoo putting out and laying it down.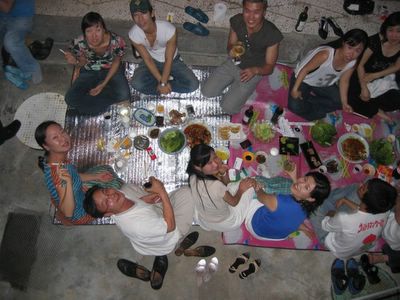 A bird's eye view of the debauchery.
One for the road. The infamous pojangmacha.
If memory serves me right, I fell off the stool right before I took this picture and cracked this woman up.
To sleep perchance to dream. Goodbye random drunk people. Goodbye subways. Goodbye crooked alleyways. Goodbye funny taxi drivers, endless construction, smokey bars, crowded streets, and cute boys with Bruce Lee hair. Goodbye sleepless city.